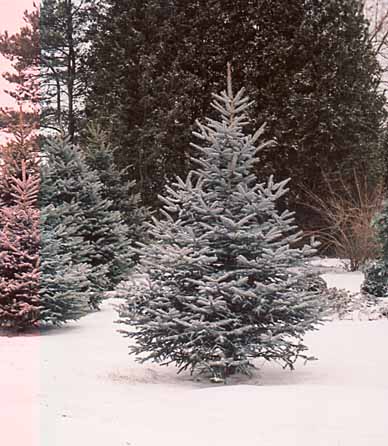 Open daily 9am to 5pm from the last weekend in November to December 24th
Located in the scenic countryside of West Flamborough, Ontario. Pinedale Farms has been growing Christmas trees since 1955. Christmas trees are a decorative tradition in many homes and harvesting your own Christmas tree is a great activity to welcome the season. We enjoy seeing familiar faces return to our farm every year and to see new people begin their own traditions.
We have 2 location from which to harvest trees from:

1554 Concession 5 West,
Flamborough
Scotch Pine
White Pine
Spruce
Balsam Fir

1650 Concession 6 West, Flamborough
Scotch Pine
White Pine
Spruce
Colorado Spruce
We have a limited number of Christmas wreaths for sale at each location. If you feel crafty, help yourself to any branches collected at the entrance, but please do not cut branches from standing trees.
Tips for the trip:
Bring a saw. Yes you will find it very difficult to chop down a tree without a saw. If you do not have a saw, we have a number available at the gate which may be borrowed on deposit of $10.

Dress Appropriately: Snow means cold and wet. It can also mean mud, depending on where you want to wander on our farm. Gloves or mittens are also recommended for handling the trees, especially the ones with sharp needles (particularly Colorado Spruce).

Drive Safely: This includes ensuring your tree is securely fastened to or inside your vehicle. If fastening to the roof, the trunk of the tree should face the front of your car for least wind resistance.
We offer various services to help transport your tree. The farm on the 5th Concession has tree baling or bagging for $2. On the 6th Concession we have a tree shaker and tree baling or bagging for $2. There is also free twine available to tie your tree to your vehicle.
Types of trees
The trees are mainly identified by their different types of needles and are priced according to height, which is an indication of its age. The average tree takes about 10 years to reach 6 feet (this includes yearly shearing into shape).
Scotch Pine: These trees have long, sharp needles and the bark is chunky. Good needle retention.
White Pine: Their needles are very long, thin and soft. The bark on the trunk is smooth, Good for fewer and light decorations, gives off a good scent.
White Spruce: They have short needles which grow out from all around the branch. Needle retention approximately 3 weeks.
Norway Spruce: These trees have softer needles that grow horizonally (flat). The bark on the branches has a red colour. A trandional Christmas tree of central Euope, this tree carries a very nice scent and is very decorative. Needle retention is approximately 2 weeks.
Colorada Spruce: The needles are very hard and sharp, with very full branches. Needles grow all the way around each branch and the trees may be dark green, slightly blue or pale blue in colour.
Balsam Fir: These trees have short needles which are softand which grow out from the branches horizontally. Trees are usually a medium to deep green colour. Excellent scent and good needle retention.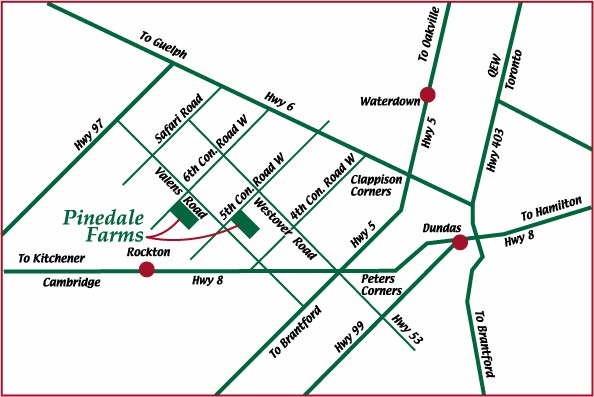 Nearby Points of Interest:
Westfield Historical Village
African Lion Safari
Don Zver Pottery
Lafarge Trail
Pinedale Farms
Tel: 519-624-6891 • Fax: 519-624-0623
Email: matylda.hnat@hotmail.com